Australia's economy is on a roll – Have Australian Interest Rates bottomed?
Australia's economy on a roll, thanks to state governments
Economist, AFR
Mar 10 2017
Gold rush in the late 19th century so enriched Charters Towers, an outback town in the state of Queensland, that it opened its own stock exchange. Trading ceased long ago.
But the grand building still stands, its barrel-vaulted portico supported by eight slim pillars. Over a century later, Queensland is reeling from the demise of another mining boom.
"There was a perception it would go on forever," says Liz Schmidt, mayor of Charters Towers. But unlike so many other booms, this one has not ended in a national bust. Australia's multi-pillared economy is still standing.
Given the violence of the commodity cycle, Australia's resilience is remarkable. At its height, mining investment accounted for 9 per cent of GDP. As the economy scrambled to meet China's demand for iron ore and coal, Australia's terms of trade spiked.
---
Household debt likely to stand in the way of rate hikes

by Cameron Kusher
06 March 2017
Official interest rates are at historic lows and it seems unlikely that they are going to be increasing in the near future. Furthermore, don't expect interest rates to return to historic average levels due to record high levels of household debt.The Reserve Bank (RBA) Governor Phil Lowe suggested last week that if it wasn't for the strength of the housing market, and a fear of inflating it further, official interest rates would be lower.  It was an interesting comment from an RBA Governor, especially when you read what the RBA's function is: The (RBA) is Australia's central bank and derives its functions and powers from the Reserve Bank Act 1959. Its duty is to contribute to the stability of the currency, full employment, and the economic prosperity and welfare of the Australian people. It does this by setting the cash rate to meet an agreed medium-term inflation target, working to maintain a strong financial system and efficient payments system, and issuing the nation's banknotes.
Inflation is currently well below the RBAs target range and the country is not at full-employment which would indicate the RBA should be considering interest rate cuts.  Clearly the economic prosperity and welfare of Australian people (linked to dwelling value growth) is a key reason why they are not cutting interest rates.
When you look at some of the key data, it seems like it could still be a long time before the RBA starts lifting interest rates again.
Official interest rates
---

by Tony Boyd
Mar 6 2017
The new British owners of economic forecasting firm BIS Shrapnel are happy for their local economists to make big calls including the view that the Organisation for Economic Co-operation and Development has got it wrong on the
Australian housing market
.
Adrian Cooper, who is chief executive of Oxford Economics, says his firm has a history of allowing its economists to make big calls on turning points in economies or markets.
"The important thing is to have the depth of analysis and understanding that underpins such calls," he says.
Also, Oxford Economics makes sure that its house view is globally consistent.
Robert Mellor, the managing director of BIS Shrapnel, which has been renamed BIS OE following the sale of 51 per cent of the equity to Oxford Economics, says he disagrees with the recent OECD analysis of Australia's housing market.
The OECD said last week that Australia has a one-in-five chance of entering recession and the $6.5 trillion housing market is running the risk of a hard landing.
While Mellor is bearish about the longer term view of the Australian economy he says the OECD's housing gloom is predicated on a forecast of a significant tightening in monetary policy…
read more
---
RBA keeps interest rates on hold, for now, at 1.5pc
by Jacob Greber
7th March 2017
The Reserve Bank of Australia has left the official cash rate on hold for a sixth straight meeting on signs the economy is strengthening and business investment has picked up.
Board members kept the benchmark at 1.5 per cent, a record low the Reserve Bank said in a statement. The decision was expected.
Speculation is growing that a shift in global inflation expectations, a resurgent US economy, and the end to a near-decade long non-mining business investment strike will prompt the Reserve Bank to unwind its recession-level monetary policy settings.
A hike is now seen by financial markets as the next move, with the chances of an increase in the cash rate in November standing at 20 per cent ahead of Tuesday's decision.
In his post-meeting statement, Reserve Bank governor Philip Lowe noted that US interest rates are "expected to increase further" and that other major central banks are no longer delivering extra monetary policy easing.
BRICs to keep on delivering: Jim O'Neill
Mr O'Neill, the keynote speaker at The Australian Financial Review Business Summit starting in Sydney on Wednesday, also said he was less concerned about US President Donald Trump's protectionist trade threats throttling the world economy.
"One of the reasons I'm less worried about Trump is that the US doesn't dominate global trade in the way it once did," Mr O'Neill said. "Of course, what Trump does on policy is going to be hugely important but it's not the only show in town."
Mr O'Neill has maintained his faith in several of the BRIC (Brazil, Russia, India and China) economies since coining the acronym in 2001, especially India and China, which has sucked in huge amounts of Australia's commodity exports. read more…
---
There's No Housing Bubble in Australia, Heads of Big Banks Say
by Emily Cadman

March 8, 2017, 1:55 PM

Soaring home prices in Australia's biggest cities don't necessarily mean the country is in the grip of a housing bubble, according to the heads of the nation's biggest banks.Why Australia's Property Market Is Booming

Testifying before a parliamentary committee, the chief executives of National Australia Bank Ltd., Westpac Banking Corp. and Commonwealth Bank of Australia all said that while they are worried about elements of the housing market, prices aren't over-inflated.

"I would draw the distinction between a speculative bubble in prices and prices beyond what fundamentals would justify," Westpac's Brian Hartzer told the committee in Canberra Wednesday. A bubble isn't occurring in Sydney or Melbourne, where house prices have risen the most, he said.

"There are increasing risks, but I still believe the answer is no," National Australia Bank's Andrew Thorburn said when asked if houses in Sydney and Melbourne are overpriced.

Commonwealth Bank, the nation's largest mortgage lender, is "lending at levels we are comfortable with" across Australia, Chief Executive Officer Ian Narev told the committee when he testified Tuesday.
read more …
---
Australia, New Zealand Luxury Homes on Top With 11% Gain
by Pooja Thakur Mahrotri

March 10, 2017, 9:40 AM GMT+8

Luxury home prices in Australia and New Zealand jumped 11 percent last year to be the best-performing region in the world, Knight Frank's Prime International Residential Index showed. Asia ranked second in high-end housing gains as individual wealth rose. Meanwhile, Russia and the Middle East posted declines in prime home values, joining three other regions that went backward. Read more …
---
Australia Is One of the World's Fastest-Growing Wealthy Nations
As the World's Wealth Rises, Australia Is the Biggest Winner
Low taxes, pretty beaches lure millionaires to Australia
by Jeanette Rodrigues

March 9, 2017They're all going to the land Down Under.

Australia is luring increasing numbers of global millionaires, helping make it one of the fastest growing wealthy nations in the world, according to reports from New World Wealth. The influx may be because of Australia's superior healthcare system and lower inheritance taxes, its ideal location to do business with Asia, as well as proximity to the South Pacific Islands that allow retired yacht owners to sail away. And, of course, the nation's pristine beaches.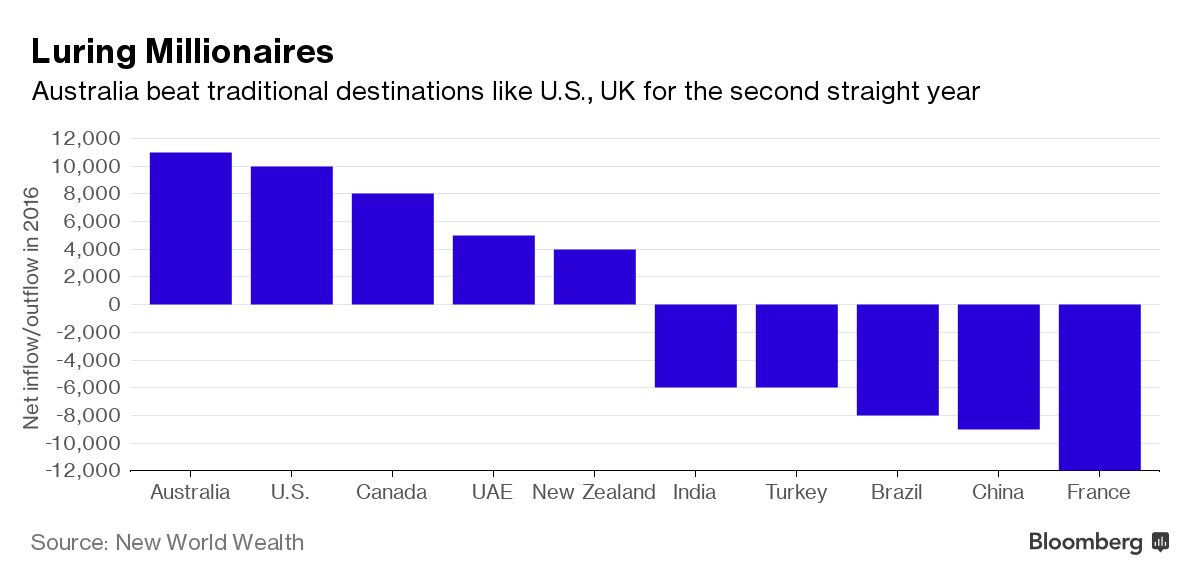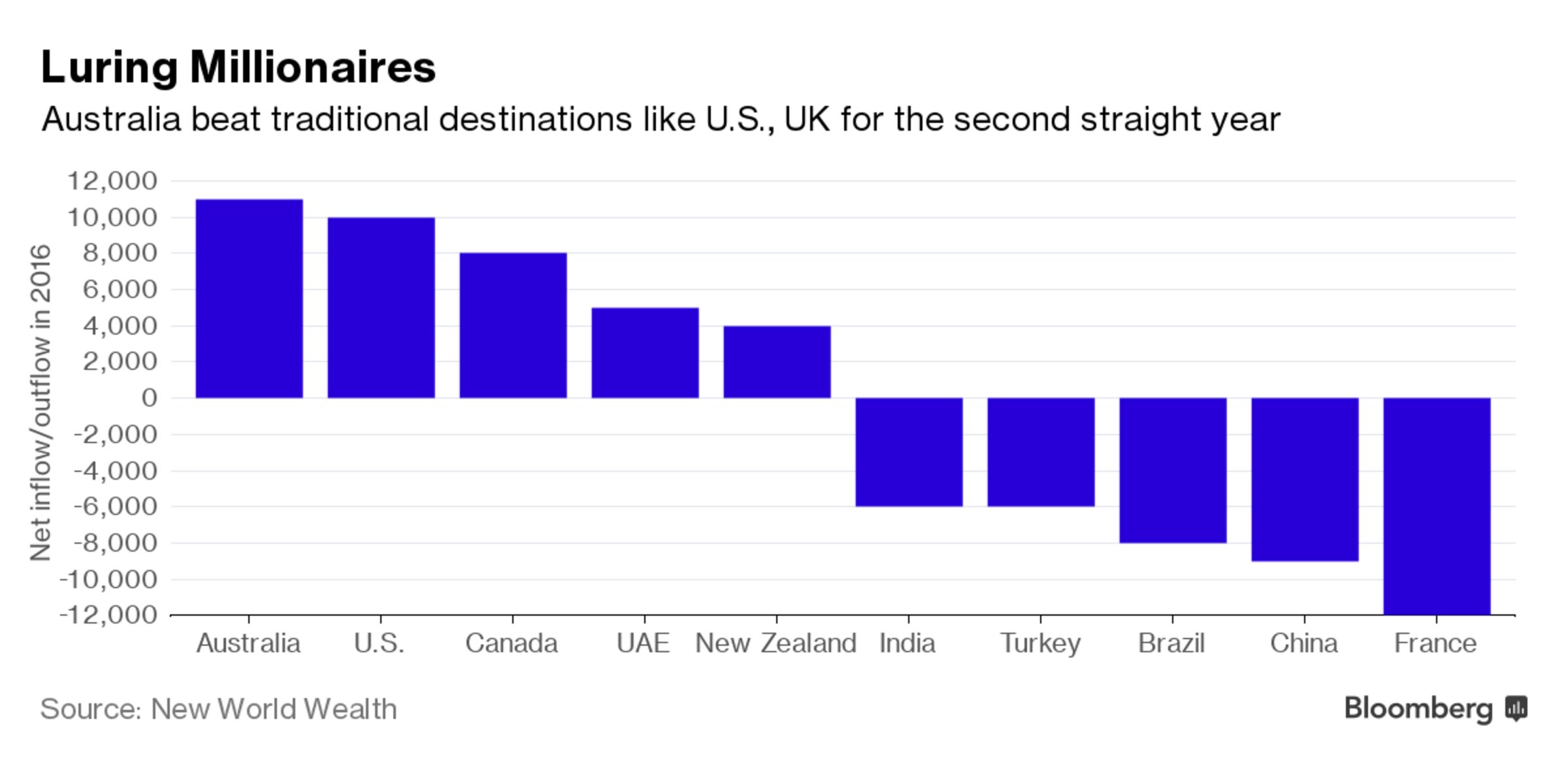 Over the past decade, total wealth held in Australia has risen by 85 percent compared to 30 percent in the U.S. and 28 percent in the U.K., aided by the fact that Australia has gone 25 years without a recession.
As a result, the average Australian is now significantly wealthier than the average American or Briton. The country may attract even more migrants as racial and religious tensions rise in Europe, according to the reports.
At the end of 2016 individuals held about $192 trillion of wealth worldwide, or about 11 times the U.S. gross domestic product, with 13.6 million millionaires holding $69 trillion of this. There were 522,000 multi-millionaires, having net assets of $10 million or more. "Wealth" refers to the net assets of a person, including property, cash, equity, business interests and minus any liabilities.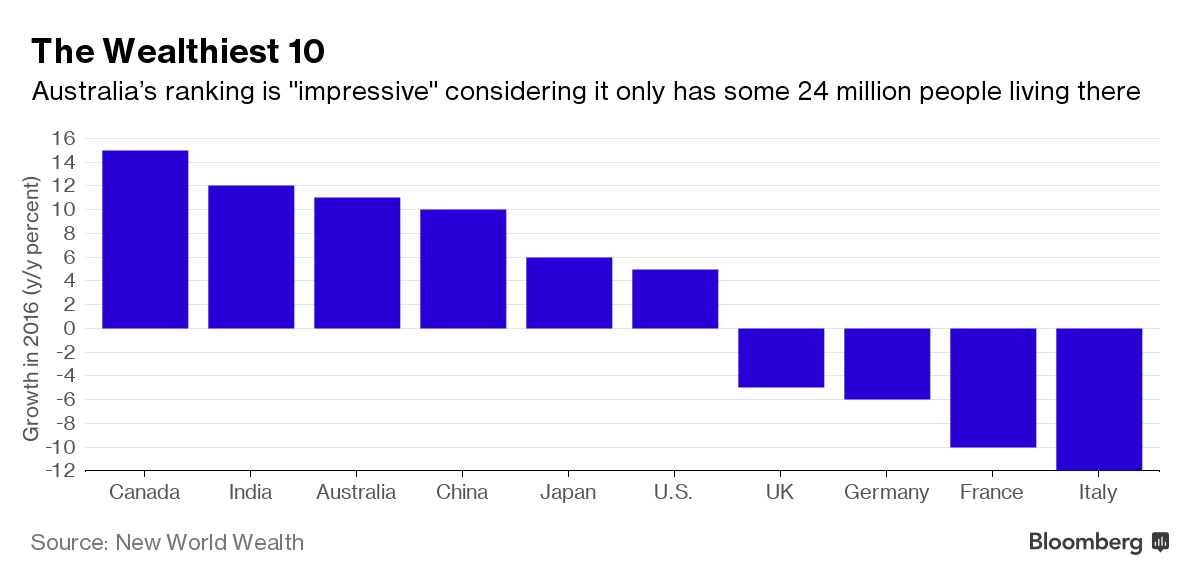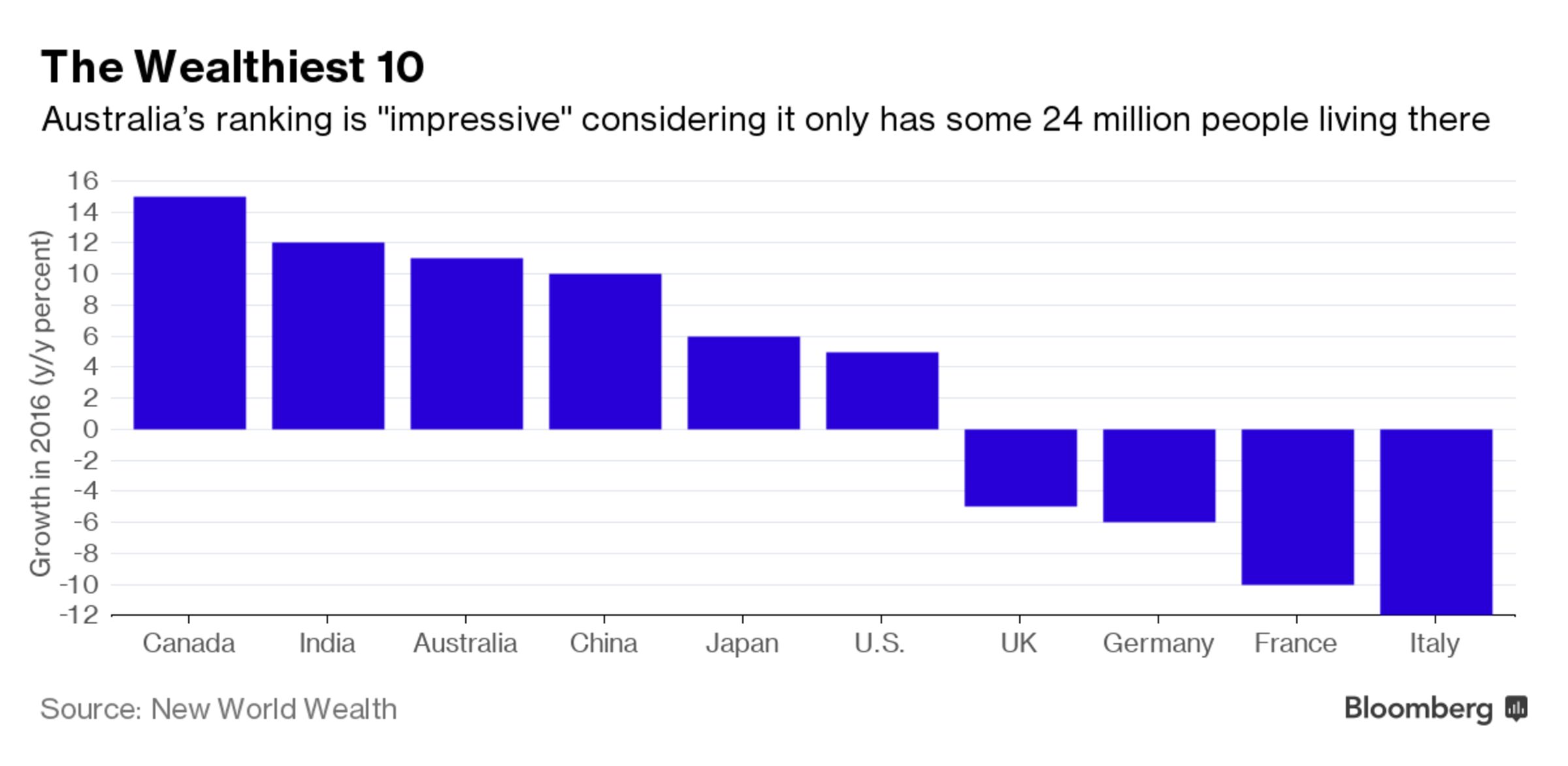 ---
Australian bond yields have shot up to 15-month highs as odds of a rate rise this year by the Reserve Bank of Australia narrow sharply and global markets scramble to position for a faster than expected pace of US monetary policy tightening.
The chance of a RBA rate hike before the end of the year rocketed to 44 per cent on Thursday, according to financial market pricing, sharply higher than the 20 per cent seen at the start of this week.
Shifting expectations towards a 2017 rate hike – which would be the Reserve Bank's first increase since 2010 – follows a marked improvement in global economic data, rising yield curves, and the biggest positive income shock from commodity exports in more than six years.
Meanwhile, the yield on the 10-year Commonwealth bond hit 2.929 per cent on Thursday morning, its highest since late 2015, while the 2-year yield climbed to 1.927 per cent, just below recent highs from December.  Read more…